YPPS Blog
2018 Student Info Fair - YPPS Staff Meet New Students
Posted: August 28, 2018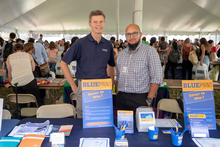 Recently, YPPS Reps Joe Relihan and Christian Peralta chatted with hundreds of new graduate students at the annual Yale and New Haven Graduate Student Info Fair. This festive event, held under a large tent in the Calkins Courtyard, draws about 1000 graduate students and their families. While other departments gave away free popcorn and candy, we gave away pens and information about Blueprint student print clusters that are located throughout campus.
read more
YPPS produces special honorary degree in Braille for Stevie Wonder
Posted: May 3, 2018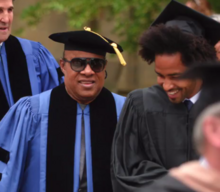 There is no more stressful time in higher education than commencement. Many departments spend months preparing the campus for this huge event, when thousands of graduates and their families converge on Old Campus. YPPS prints all of the diplomas and supporting materials for this event. While our team was preparing for the 2017 graduation ceremony, we were notified that one of Yale's Honorary Degree (HD) recipients was the legendary musical genius Stevland Morris, also known as Stevie Wonder.
read more
YPPS Staff Celebrate at Long Service Awards Dinner
Posted: April 10, 2018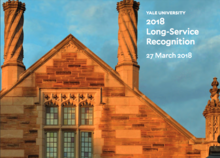 Four members of our staff recently celebrated milestones at the Yale Long Service Awards Recognition Dinner. Donna Mishiwiec, John Heine, Laura Beattie and Anne-Marie Quirke collectively have been at Yale 130 years!  Donna has served the longest at 40 years, John 35 years, Laura 30 years, and Anne-Marie 25 years.
read more
For Valentine's Day Fall in Love with Our Fabric Travel Posters
Posted: February 12, 2018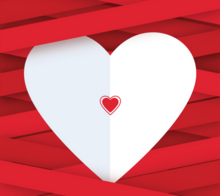 No Big Tubes to Carry; Fits in your carry on baggage; High Quality Printing and Great Pricing!
Traveling this Valentine's Day? Need to pack a box of chocolates or your presentation poster? YPPS has a "sweet" solution with our handy cloth posters. No more bulky tubes, just fold the poster and slip it in your luggage.
Not traveling? Maybe your sweetheart needs large format signs, posters, or wall graphics. YPPS can make your Valentine's Day wishes come true.
read more
YPPS Collaborates with Yale Cancer Center
Posted: January 9, 2018
The Yale Cancer Center Studies Department recently developed a new program for breast cancer survivors called LEAN (Lifestyle, Exercise, and Nutrition) and needed help marketing it.  They reached out to YPPS for assistance creating several engaging, informational print pieces promoting and educating breast cancer survivors.
For the program participants, it was decided to create a 240-page, coil-bound guide book, a 3-hole-punched, journal-entry book, a symptoms-management, recipe book, a wire-bound strength-training program, a study brochure, plus tote bags and water bottles.
read more
Happy Holidays from YPPS and Handsome Dan!
Posted: December 20, 2017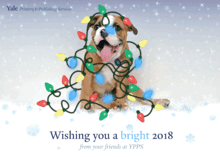 Happy Holidays from the entire staff at YPPS.  We want to thank all of our customers for their support throughout 2017. It has been a banner, busy year.  Every December we do a creative animated card or game.  This year we featured Yale's mascot Handsome Dan (aka Walter).  This latest ecard has some cool animation with blinking lights. In the past, we've done an animated sled rider and a few fun games.
We hope you enjoy this year's creation from our own Nick Appleby. Happy Holidays, Merry Christmas, Happy Hanukkah and Happy New Year to all!
read more
YPPS Supports United Way Campaign in many ways
Posted: November 30, 2017
Each year Yale University launches a significant campaign to raise funds for the United Way New Haven Chapter–raising over $1 million that supports many local programs. Tons of work goes into raising that amount of money, and there are hundreds of volunteers who help with events, communications and more. YPPS's fingerprint is on all the printed materials that support this important campaign including: stickers, posters, donor cards, pledge forms and brochures. 
read more
YPPS Hosts Successful IPMA Annual Roadshow
Posted: November 10, 2017
YPPS recently hosted IPMA (In-Plant Printing & Mailing Association) for their annual Roadshow sponsored by Richo, Canon and Kodak. Each year the "Roadshow" visits different locations for a day of presentations, educational sessions, tours and roundtables with local in-plant managers and vendors. This year 38 managers mostly from local colleges and universities attended along with 11 vendors. Also over a dozen students from local high schools participated in this event to understand jobs in this market and also recent trends. 
read more
YPPS Featured in the News for their App and Epub Work
Posted: October 26, 2017
Recently YPPS was featured in In-PlantGraphics online magazine for their work developing apps and epublications.  
read more
YPPS Staffer Recognized for Outstanding Service
Posted: September 22, 2017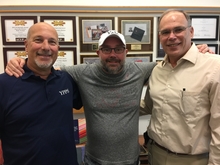 At YPPS we value, great design, fast turn around times and above all outstanding customer service. Recently one of our staff members, Mark Smith, YPPS Customer Service, was recognized for his personal outstanding service.
read more
Pages