YPPS has large-format printers that can print up to 48" x 108" in color or black-and-white. Combine with lamination or foamcore mounting for durable poster presentations that will stand out in any setting. Don't forget if you are traveling we also produce posters on fabric. This makes traveling around town or the world that much easier!

As of March 2018, YPPS has upgraded its ordering system to allow for easier entry of COA payment information.

Click below to learn more about how YPPS is working with Yale Medicine to update their brand identity.

YPPS is proud to announce the creation and launch of the Yale School of Music (YSM) mobile app. The app was developed and published by YPPS in collaboration with Monica Ong Reed, YSM's own graphic designer and user experience (UX) coordinator.

Promotional products and solutions from YPPS provide dozens of different ways to place the branding/logo of your organization or group in the public eye.

YPPS is constantly seeking new ways to be more "green" - click the link below to view a presentation about some of our sustainability initiatives.

In April 2015, YPPS took 1st place at the annual Association of College & University Printers (ACUP) Conference in the Impression field for our dedication and achievements in the area of sustainability. In addition, we placed 2nd in the Production field in the categories of Offset Multiple Pieces, Wide Format, and Digital Multiple Page.

Last year Silliman's incoming freshman were looking extra fresh in their signature sunglasses produced here at Yale Printing & Publishing Services (YPPS). These two color shades were just what they needed on their bright journey to becoming part of the Yale Class of 2018. Keep a look out for them (and other great YPPS products) around campus.
Welcome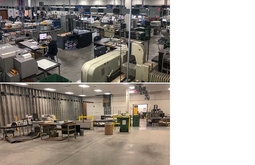 YPPS consolidates space, team, and transforms into lean printing machine
Yale Printing and Publishing Services (YPPS) did some remodeling—of both their space and structure. Last year,  we were asked to give up some of our  production and office footprint for a new apprentice training program Yale Facilities will be implementing.
blog
Yale Blue: What's in a color?
CMYK 100, 75, 8, 40 or Pantone 289 is best known as Yale Blue. The color associated with Yale and her traditions was standardized by the University Printer, John Gambell in 2005 in the third university search for "true Yale Blue." However, much as Harvard Crimson was almost Harvard Magenta, the tradition of Yale Blue was far from secure well...