YPPS has large-format printers that can print up to 48" x 108" in color or black-and-white. Combine with lamination or foamcore mounting for durable poster presentations that will stand out in any setting. Don't forget if you are traveling we also produce posters on fabric. This makes traveling around town or the world that much easier!

As of March 2018, YPPS has upgraded its ordering system to allow for easier entry of COA payment information.

Did you know that you can order personal protective equipment for your return to Yale directly from YPPS? Click below for more information and to place an order.

Click below to learn more about how YPPS is working with Yale Medicine to update their brand identity.

Promotional products and solutions from YPPS provide dozens of different ways to place the branding/logo of your organization or group in the public eye.

YPPS is constantly seeking new ways to be more "green" - click the link below to view a presentation about some of our sustainability initiatives.

In April 2015, YPPS took 1st place at the annual Association of College & University Printers (ACUP) Conference in the Impression field for our dedication and achievements in the area of sustainability. In addition, we placed 2nd in the Production field in the categories of Offset Multiple Pieces, Wide Format, and Digital Multiple Page.

Last year Silliman's incoming freshman were looking extra fresh in their signature sunglasses produced here at Yale Printing & Publishing Services (YPPS). These two color shades were just what they needed on their bright journey to becoming part of the Yale Class of 2018. Keep a look out for them (and other great YPPS products) around campus.
Welcome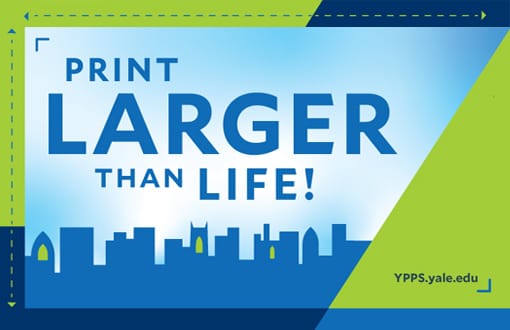 Print Larger Than Life
YPPS is excited to announce an increased selection of wide-format products available to our Yale community. Whether you need a fabric poster, signage, floor graphics, event promotion or even something bigger – YPPS can provide expertise and high-quality larger-than-life printing – right here on campus.
Blog
Shred your documents securely
Yale Printing & Publishing Hosts Shred Events to Benefit the United Way of Greater New Haven
Following the great success of last year's shred bag campaign, which raised $5,000 for the United Way, YPPS is launching the program once again! In return for a $25 donation to support the United Way of Greater New...