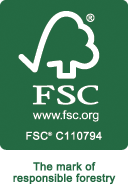 The
Forest Stewardship Council™
(
FSC
) is an international not for-profit, multi-stakeholder organization established in 1993 to promote responsible management of the world's forests. One of its main tools for achieving this is independent certification and labeling of forest products, which offers customers the ability to choose products from socially and environmentally responsible forestry.

YPPS also supports and is certified through the
Rainforest Alliance™
, which is accredited by the FSC and is today the world's leading nonprofit FSC certifier. The Rainforest Alliance's certification program was founded in 1989 to certify responsible forestry practices, and is recognized around the world as an indicator that accredited businesses are following the highest environmental and social standards.
YPPS is now an FSC certified vendor, and we offer the following stocks that meet the FSC standards: