YPPS Blog
ACUP Awards Winner!
Posted: April 19, 2015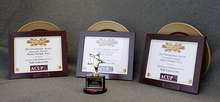 Yale Printing & Publishing Services (YPPS) attended the annual Association of College & University Printers or ACUP Conference this past weekend where educational in-plant printers and mail operators  gather to consult, learn and interact with each other. This event is exciting to attend, as we always learn much from our peers, as well as share our knowledge and experience with them. This year YPPS also competed in both the ACUP Production and Impression contests. Impression awards are based on a team's initiative taken and the specific results gained.  
read more
Integrated Leadership Case Competition Awards
Posted: April 8, 2015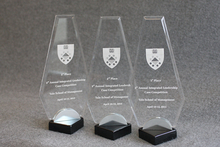 The Yale School of Management (Yale SOM) Student Government is hosting its annual inaugural case competition on April 10-12, 2015 in Evans Hall. The Yale School of Management Integrated Leadership Case Competition (ILCC) was created to convene the best students from participating universities in developing creative solutions for business challenges that require the integration of multiple disciplines.
read more
Samurai and the Culture of Japan's Great Peace
Posted: March 30, 2015
The Japanese Samurai and their culture have been marveled for centuries. Now you can see their breathtaking artifacts at the Peabody Museum! While attending we hope you enjoy their beautiful event catalog and mug. These items can be purchased in the gift shop of the museum. YPPS and the Peabody worked along with one another to produce these two pieces as well as the event's opening invitations.
read more
Portfolio Printing Season!
Posted: March 23, 2015
With finals only a month away, Yale Architecture and Design students are busy with classes, studying and portfolio completion. Their portfolios must be done quickly and professionally.  YPPS helps them produce these with little hassel–a bit of relief during this stressful time of year.  Yale students and other community members can count on YPPS for expert advice and guidance through this rich process. We offer a variety of fantastic paper stocks and binding methods that will surely meet your needs!
read more
Print Green for Saint Patrick's Day
Posted: March 15, 2015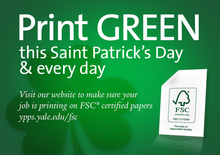 Represent your green spirit this Saint Patrick's Day with green papers! YPPS carries a full line of FSC® certified stocks to ensure you're printing sustainably.Make your next YPPS print job a geen one!To see our full line of FSC papers, Click here.    >>Click to view complete newsletter
read more
YPPS' Sustainability and Awareness Initiatives
Posted: February 24, 2015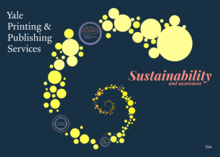 As we bring February aka "Paper Month" to a close, YPPS is happy to have been recognized as one of the champions of improving campus sustainability. We have furnished and implemented ideas and solutions, such as BluePrint and PaperCut, which have contributed in part to Yale's goal of reducing paper consumption by 16%. Ultimately this figure surpasses Yale's 2013-2016 Sustainable Strategic Plan of a 10% reduction.Also during February, YPPS was requested to present our sustainable initiatives and future plans to Yale's Sustainable Leaders and Directors.
read more
Print Media Supports Successful Housing Fair
Posted: February 22, 2015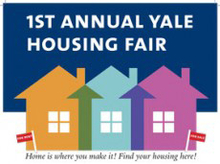 Recently Yale Housing hosted its first annual Fair. The fair, held February 7th at Yale Commons, was attended by almost 1000 members of the Yale community and featured over 80 vendors.
read more
Valentine's Day Love from YPPS
Posted: February 10, 2015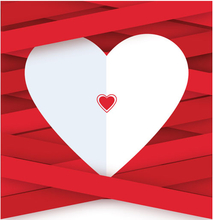 Fall in love with our new fabric travel posters.  Traveling with your poster on Valentine's Day, or any other day, could not be sweeter.  Our cloth posters will keep your travel extra special by keeping your luggage light.No big tubes to carry.Fits in your carry-on luggage.High-Quality printering.Great prices.For more information, click here. 
read more
Going Green with School of Architecture Students-
Posted: December 16, 2014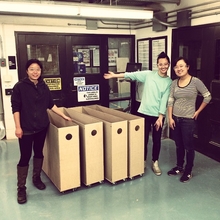 At the School of Architecture students use large format plotter printers for class work.  These printers generate a fair amount of wasted paper.  For the past few years, we've teamed with YSOA students to repurpose that waste into fun notepads.
read more
A Visual Scavenger Hunt & Tour of the Elm City through print media
Posted: December 2, 2014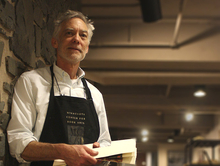 A vibrantly colored, partially hand-printed book project by Richard Rose, Master Letterpress Printer at Jonathan Edwards College, is being featured this month at Artspace.  His project, which combines letterpress (composing movable type and hand inking a printing press) and digital printing, was commissioned with funding from the National Endowment for the Arts.To the Letter: Reading New Haven is an intimate, accordion-fold book project that deftly encompasses the digital with the analog.
read more
Pages