YPPS Blog
This Thanksgiving don't get caught printing like a Turkey!
Posted: November 19, 2014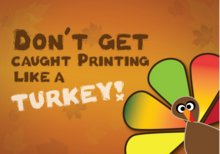 This holiday season order from YPPS's FSC certified paper stocks. Using our environmentally friendly paper stocks will satisfy your hunger to print green. This is the perfect time of year to give thanks knowing paper consumption can be sustainable! Gobble up more information on our eco-friendly papers, or see how we can carve a future of carrots and pea greener printing by clicking here.   Make your communication stand out from the crowd by using these trademarks. 
read more
Science Park Outreach Committee Gift Basket Raffle Supports Four New Haven Charities - Tickets on Sale November 12-14, 2014
Posted: November 10, 2014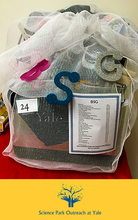 The children of New Haven need your help! Please purchase raffle tickets at the sixth annual Basket Raffle sponsored by Science Park Outreach at Yale! This group of very dedicated volunteers (all Yale employees ) is chaired by YPPS' own Maura Gianakos and raised over $10,000 dollars last year with this as their main fundraising event. This year's basket raffle is co-chaired by Lynne Reichentahl and Jill Johnson, and all proceeds from the raffle benefit the following: New Haven Cares, New Haven Reads, Ronald McDonald house, and the Wexler Grant School.
read more
Hal Schwartz of YPPS Gets Thanks from Yale's Emergency Management
Posted: November 3, 2014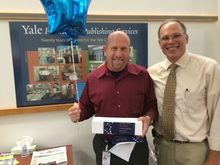 Hal Schwartz, Print Production Coordinator at YPPS and Director Jeff Gworek all smiles after an #outoftheblue surprise. Since 2009 Hal Schwartz has worked on multiple print projects with Emergency Management Director Maria Bouffard.
read more
Don't Let Printing Responsibly Be So Scary!
Posted: October 28, 2014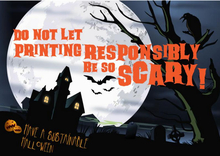 As part of our ghoulish, greenish nature, YPPS is being FSC® certified as a Chain-of-Custody vendor for the 3rd year in a row! This means the Forest Stewardship Council® (FSC) recognizes our department as using the correct measures to provide our customers with FSC certified papers, as well as the ability to brand printed printed pieces with the FSC and Rainforest Alliance™ logos whenever proper materials are used for printing with us. Read More.
read more
YPPS Staff Celebrates Founders Day Setting Up Lifesize Cutouts & Photobooths
Posted: October 27, 2014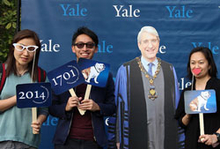 For Yale's Founders Day Celebrations, the YPPS Outsource team set up photo booths and lifesized cut outs of President Salovey and Yale's mascot Handsome Dan.  There were many events around campus and students and staff were able to take their photo with the President or Handsome Dan.  These many funny photos were covered on Yale's Flicker Page.  To see all the photos click here.
read more
Shuttle Clings for Science
Posted: October 13, 2014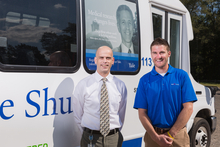 Michael Ferguson was approached by the COO of YCCI, Tesheia Johnson, about a new advertisement opportunity for the Yale Shuttles concerning an upcoming campaign about Clinical Research. This was the first time shuttle signs would be facing outward. The campaign focuses on clinical research and how the local community can volunteer to help with clinical trials and help Yale researchers and the world through the studies.
read more
JE Prints
Posted: October 2, 2014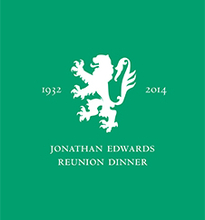 Last weekend, Jonathan Edwards College (JE), the oldest residential college at Yale, celebrated its first all-years, all-classes reunion. Alumni spanning nearly eigth decades returned to 68 High Street to relive their college years, catch up with old friends, and make new ones in the process.Former students returned from all over the world– some for the first time since graduation, others a familiar face around the recently rennovated college.
read more
The Yale Scientific Vendor Show (and free goody bags)
Posted: September 28, 2014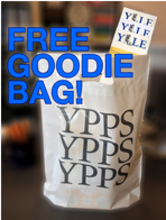 Join YPPS and 50 other vendors September 30 to October 2 at the Annual Yale University Scientific Vendor Show. This yearly research supplier product show features a variety of top-level exhibitors focusing on scientific lab equipment, and Yale departments displaying supporting resources.
read more
Slow Dancing
Posted: September 18, 2014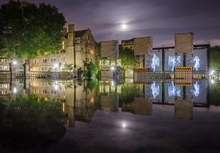 In celebration of its 40th anniversary, the Institute of Sacred Music (ISM) presented David Michalek's film installation Slow Dancing. The event consisted of 46 larger-than-life, hyper-slow-motion video portraits of dance artists from around the world, displayed on three giant screens on Cross Campus. Each subject's movement was shot on a high-speed camera at several thousand frames per second to drastically slow their motions.
read more
There and Back Again: Peter Johnson
Posted: September 10, 2014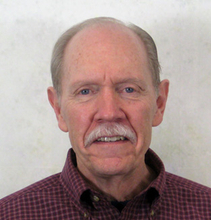 YPPS's Senior Designer, Peter Johnson, retired this month. He will be truly missed by all.Peter has had a rich history here at Yale. After entering as a freshman in 1962, he went on to earn his undergraduate degree, and by 1980 had earned two Master of Fine Arts degrees at Yale as well in photography and graphic design. During this period, Peter served four years in the Marines, with a tour in Vietnam.He ran his own business for the next 15 years. Then one day, by chance, he met  John Gambell, a classmate from Yale's  graphic design MFA program.
read more
Pages