Four members of our staff recently celebrated milestones at the Yale Long Service Awards Recognition Dinner. Donna Mishiwiec, John Heine, Laura Beattie and Anne-Marie Quirke collectively have been at Yale 130 years!  Donna has served the longest at 40 years, John 35 years, Laura 30 years, and Anne-Marie 25 years.
Both Donna and John were interviewed about their careers for the Long Service year book. Donna remarked on the many friendships she's made over the years and the "fun summer outings the department had where family and co-workers gathered."  John has seen lots of change at Yale during all his years of service quoting Sun Tzu:  "change the way you look at things and the things you look at change."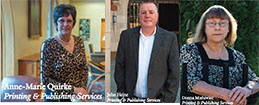 Donna, John, Laura and Anne-Marie have all spent their careers at YPPS, and hope to continue there until retirement. During the Long Service Awards Dinner they enjoyed reminiscing over a wonderful dinner with that included their guests, lots of laughs and great stories.