YPPS Blog
A Year of Achievement
Posted: September 19, 2016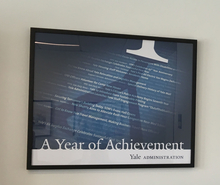 Earlier this year Jason England, Communications and Pre-press Manager at YPPS designed this poster which highlights a year of headlines for Yale Administration.  The design puts a virtual spotlight on these achievements and features one for each of Administration's divisions including:  Public Safety, Fleet Management, Housing, Support Services, Travel Management, Eli Surplus and YPPS!  Directors for each of these divisions were given this poster as a gift at a recent retreat.
read more
Welcome Class of 2020
Posted: September 12, 2016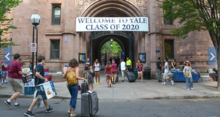 In late August, the Yale College Class of 2020 arrived on campus, taking part in one of the university's most beloved traditions: freshman move-in day. The 1,373 new freshmen traveled from all 50 states and 50 different foreign countries to New Haven. YPPS helped to officially welcome these new students to campus with the many large and table banners placed around Old Campus.
read more
2016 Graduate Student Info Fair
Posted: August 31, 2016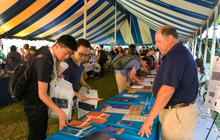 Recently, YPPS Reps Joe Relihan and Harry Pascerelli chatted with hundreds of new graduate students at the annual Graduate Student Info Fair. This festive event, held under a large tent in the HGS Courtyard, draws about 1000 graduate students and their families. While other departments gave away free popcorn and candy, we gave away pens and information about Blueprint student print clusters that are located throughout campus. Harry provided them with a quick tutorial on how to sign up for this service, while Joe filled them in on all the other services YPPS can provide.
read more
Olympic Logos and Symbols From 1924 to 2022
Posted: August 19, 2016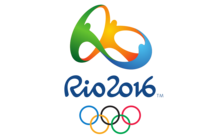 The Olympic Summer Games in Rio De Janeiro Brazil are in full swing. US athletics are racking up the medals. Here at YPPS we are always interested in the print or artistic aspect of such an event. In this case, the Olympic logo which is used on everything from uniforms to commercials.  The five colored rings are always incorporated into the Olympic logo but its had many treatments over the past 90+  years.  Take a look back and forward at these nostalgic and also modern Olympic logos.  Go USA!
read more
Best of Show
Posted: July 5, 2016
Every year, In-Plant Graphics hosts an award contest to recognize the highest quality work in in-plant printing. Industry experts, vendors and managers come together to acknowledge and celebrate the best in the business at the IPMA (In-Plant Printing & Mailing Association) conference, this year held in Denver. Yale Printing and Publishing Services was nominated for its piece "Chubb Fellowship". Out of 430 entries, 28 were chosen for Gold awards.
read more
Yale School of Art Commencement Scarves
Posted: June 9, 2016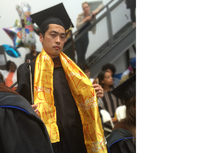 Every year the students graduating from Yale's School of Art never cease to amaze our team at YPPS. They design some of the most interesting and extravagant commencement programs here at the University. This year was no exception with the programs designed on a wearable scarf as well as a complimentary printed version.
Our staff was more than excited to help produce this fun project for the Art School. We loved the final product, and thought it was well received by all. Hope you like them too!
read more
Printing Praise
Posted: June 1, 2016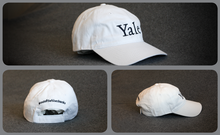 Yale Administration is full of hard-working and devoted individuals who are committed to making Yale and the community a better place. Since 2014, many individuals have been praised for their dedication through the #outofthebluethanks staff recognition program.
read more
YPPS Enjoys a Great Start to 2016 with silly selfies and lots of prizes!
Posted: February 24, 2016
In late January, Human Resources and Administration staff members gathered to enjoy another terrific New Year's celebration hosted by Yale VP of HR & A Michael Peel. Thanks to the hard work of a few individuals a great time was had by all. This event was a wonderful opportunity for folks from different groups under the HR & A umbrella to get together, enjoy some good food a little dancing and for many finally put the "face to the name." Our colleagues become our friends and we were reminded of our common purpose to use our talents to make Yale great.
read more
Happy Valentine's Day from YPPS!
Posted: February 12, 2016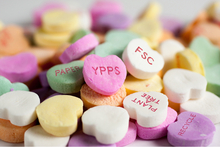 Let's start a conversation about how sweet it is to print responsibly on paper! You can print on paper and still be sustainable. By choosing FSC (Forest Stewardship Council) certified papers YPPS supports the most sustainable paper usage possible today. YPPS has been an FSC member since 2010.
read more
YPPS Develops Touch-Screen Application for New Hall of Champions at Mory's
Posted: January 26, 2016
On Thursday, January 14th, Mory's celebrated the opening of the Thomas A. Beckett Hall of Champions, honoring Beckett's first 20 years as Director of Athletics at Yale. The Hall of Champions connects Mory's Main Dining Room with the popular Temple Bar, and is a well-traveled passageway. The launch event was attended by Yale President Peter Salovey, guest of honor Thomas Beckett, and a large number of other past and present Yale VIPs.
The new, permanent exhibit combines historic images and modern technology:
read more
Pages