YPPS Blog
Shred your documents securely
Posted: April 13, 2021
Yale Printing & Publishing Hosts Shred Events to Benefit the United Way of Greater New Haven
Following the great success of last year's shred bag campaign, which raised $5,000 for the United Way, YPPS is launching the program once again! In return for a $25 donation to support the United Way of Greater New Haven, participants will receive a large Sealable Security Shred Bag which can hold 45 lbs. of your documents.
read more
YPPS receives two IPMA Awards
Posted: August 8, 2019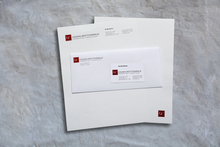 In June, YPPS won two awards at the In-Plant Printing & Mailing Association (IPMA) Conference. This annual conference gathers in-plant printers and mail operators to consult, learn, and interact with each other. The two IPMA awards included: gold award for a stationery package printed on digital equipment for Loughlin Fitzgerald, a non-Yale client, and a bronze award in the booklet category (48 pages or fewer with cover) for the Yale Divinity School Andover Newton Seminary booklet.
read more
Staff Appreciation Day
Posted: June 21, 2019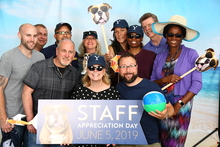 For the past few years, during Staff Appreciation Day, there has been a photo booth. It's always very popular but the photos were only available online. New for this year, staff members received a 4X6 color photo. YPPS donated the printers, ink, paper, and services to run production for the photo booth throughout the 2-hour event.
read more
Yale Blue: What's in a color?
Posted: April 11, 2019
CMYK 100, 75, 8, 40 or Pantone 289 is best known as Yale Blue. The color associated with Yale and her traditions was standardized by the University Printer, John Gambell in 2005 in the third university search for "true Yale Blue." However, much as Harvard Crimson was almost Harvard Magenta, the tradition of Yale Blue was far from secure well into the early 20th century. The color was only officially adopted as the school's color in 1894. For fifty years before adopting blue, Yale had been associated with the color green.
read more
YPPS's Michael Ferguson Self-Taught Illustrator
Posted: March 11, 2019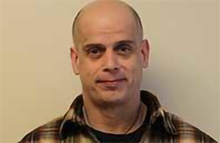 Michael Ferguson first discovered his passion for illustrating in his 20s while working the late-night shift at a printing shop. He explains that his hobby was born out of opportunity. "There was a lot of scrap paper around, and when we produced large jobs I often had a lot of time to kill, so I just started sketching." He soon realized that sketching came easily and naturally to him and became driven to learn more and further expand his skills. His interest in art gravitated specifically toward fine art, painting, and learning old master techniques.
read more
YPPS Hosts ACUP+ Conference April 7 – 11, 2019
Posted: February 6, 2019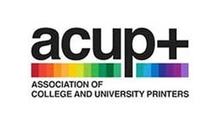 Yale Printing and Publishing Services is teaming up with the Association of College and University Printers (ACUP+) to host the ACUP+ 2019 Conference here in New Haven, CT. The event takes place over four days from April 7 – 11 at the Omni Hotel.  Any K-12, college or university employee responsible for or associated with copying, printing, mailing services, copier management, copyright management or graphic design is welcome to attend.
read more
US Postal Rate Changes as of 1/27/19
Posted: February 1, 2019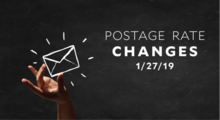 Update from the USPS
As of January 27, 2019, the Unted States Postal Service (USPS) has implemented postage rate changes. First Class postage stamps have increased to $.55, while First Class metered postage has increased to $.50.
To see a full list of all postal changes, please click here.
read more
"Cinema-what?" - the story behind the YPPS 2018 Holiday card
Posted: December 18, 2018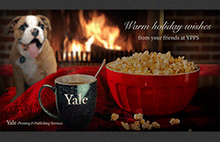 With overloaded email inboxes, it's difficult to create a message that really grabs the reader's attention. One way to do this is to add motion–in the form of an animation. Be warned this approach comes with certain challenges. While web pages can contain animated content of many kinds (such as embedded videos), most of these content types do not work in emails. Email messages can contain graphics, but not many graphic formats can be animated. For example a JPEG file, one of the most common formats for graphic content in emails, can not contain animated content.
read more
John Heine honored by CT Convention & Sports Bureau
Posted: November 26, 2018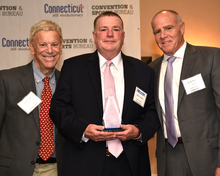 Congratulations to John Heine who was recently honored by the Connecticut Convention & Sports Bureau (CTCSB) for his work in helping to bring an event to Connecticut that has a profound impact on the state's economy. John was honored at the CTCSB Hospitality Industry Night and Bring It Home Awards sponsored by Eversource held in late October.
 

read more
Wishing You A Happy Holiday!
Posted: November 16, 2018
Thanksgiving is quickly approaching, and YPPS would like to wish everyone a safe and happy holiday!
Our work week will be shortened due to the holiday, so please do your best to think of us ahead of time for any immediate print or design needs.
read more
Pages