Following CDC recommendations, Connecticut Governor Ned Lamont has ordered face coverings to be worn by anyone in public. Members of the Yale community are expected to comply with the Governor's order and wear face coverings when outside or in any space that can reasonably be expected to be shared (e.g., common work areas, hallways, and restrooms). A face covering is not required when working alone in segregated spaces (i.e., cubicles with walls, private offices, etc.).
Please use the links below to access the appropriate ordering system.
 
Note: Return to Yale Cloth Mask Kits are being distributed to all faculty, staff and students. After receiving your Return to Yale Cloth Mask Kit, additional supplies of disposable masks, hand sanitizer, and disinfecting wipes can be ordered by your Lead Administrator using the PPE Supply Replenishment link above.
Purchase cloth masks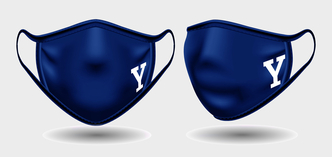 Cloth masks can be purchased via our online ordering systems; payment is required at the time of purchase.