YPPS SUPPORTS YALE MEDICINE!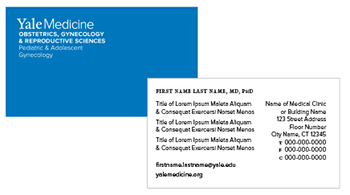 YPPS has created a storefront exclusively for use by our colleagues at Yale Medicine (YM) to support the new brand initiative. Available now are business card, appointment cards, letterhead, e-letterhead, envelopes and lab coats. Please go to https://ym.yppsprintatyale.com and register to set up your new account. Registering for the site will save time during the order process by prepopulating your information within the form. A record of each order placed will be saved and accessible for future orders.
Yale Medicine Branding Guidelines
YPPS recognizes the importance and mission of rebranding to Yale Medicine and commits to support Yale Medicine by following guidelines as put forth by Yale Medicine. We will be happy to help with questions regarding the ordering process and use of the brand in printed collateral materials. Yale Medicine has supplied YPPS with the guidelines and art necessary to incorporate the new branding. If you have any questions regarding the rebranding or use of the brand please refer to the Yale Medicine support site http://inside.yalemedicine.org/
If you have any questions regarding the ordering process, please call the YPPS Hotline (475) 224-0128.
IMPORTANT NOTE: The rebranding of Yale Medical Group to Yale Medicine DOES NOT affect Yale School of Medicine academic branded materials.
REMEMBER: Business cards play an important role in communicating the new Yale Medicine brand as they are often your first contact with patients and colleagues. Visit ym.yppsprintatyale.com to place your order.