YPPS Blog
Yale's most handsome Dan yet is set to hit the field
Posted: November 28, 2016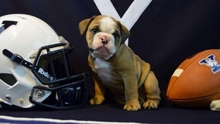 Yale's newest mascot, Handsome Dan XVIII is coming to a home game soon! The Handsome Dan/Yale Mascot legacy dates back to 1890 with the introduction of a bulldog named Harper. Harper was purchased from a local merchant by a Yale student, who took the very dirty dog home and gave him a good scrubbing. The student discovered under all the grime an almost white bulldog. Legend has it he exclaimed to Harper "why aren't you the handsome Dan!" 
read more
Printing Centerpoint Magazine
Posted: November 17, 2016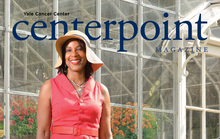 The fall/winter edition of Yale Cancer Center's magazine Centerpoint is now available! This seasonal publication is distributed in both a print and digital desktop edition to the public and the Center's friends, volunteers, donors, and staff.  It includes many articles about research, clinical trails, advocacy and more centered around the Yale Cancer Center. Yale Printing & Publishing Services is happy to manage the printing of this beautifully designed magazine, producing 30,000 copies of this issue alone. Each issue is offset printed using UV inks.
read more
Veteran's Day 2016
Posted: November 11, 2016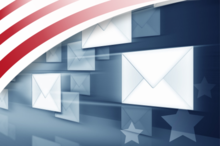 As we honor all who serve our country, YPPS will make mail pickups on November 11th, 2016. Due to the federal holiday USPS locations will be closed with no services.
Regards,
YPPS
read more
YPPS Fills Backpacks for New Haven Children
Posted: November 1, 2016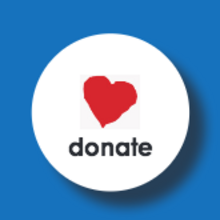 Recently, YPPS donated pads, paper and other back-to-school items helping to fill 150 backpacks for children in New Haven.  This was part of the Clifford Beers Clinic's (CBC) annual backpack drive.
read more
YPPS Takes Part in Yale Founders Day
Posted: October 5, 2016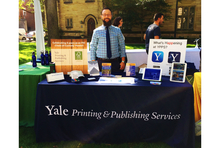 YPPS participated in the 3rd Annual Founders Day, which is held every October on a day close to the anniversary of Yale University's founding.
read more
A Year of Achievement
Posted: September 19, 2016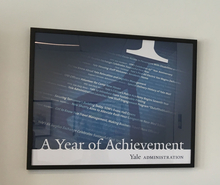 Earlier this year Jason England, Communications and Pre-press Manager at YPPS designed this poster which highlights a year of headlines for Yale Administration.  The design puts a virtual spotlight on these achievements and features one for each of Administration's divisions including:  Public Safety, Fleet Management, Housing, Support Services, Travel Management, Eli Surplus and YPPS!  Directors for each of these divisions were given this poster as a gift at a recent retreat.
read more
Welcome Class of 2020
Posted: September 12, 2016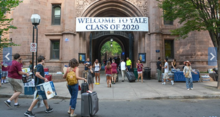 In late August, the Yale College Class of 2020 arrived on campus, taking part in one of the university's most beloved traditions: freshman move-in day. The 1,373 new freshmen traveled from all 50 states and 50 different foreign countries to New Haven. YPPS helped to officially welcome these new students to campus with the many large and table banners placed around Old Campus.
read more
2016 Graduate Student Info Fair
Posted: August 31, 2016
Recently, YPPS Reps Joe Relihan and Harry Pascerelli chatted with hundreds of new graduate students at the annual Graduate Student Info Fair. This festive event, held under a large tent in the HGS Courtyard, draws about 1000 graduate students and their families. While other departments gave away free popcorn and candy, we gave away pens and information about Blueprint student print clusters that are located throughout campus. Harry provided them with a quick tutorial on how to sign up for this service, while Joe filled them in on all the other services YPPS can provide.
read more
Olympic Logos and Symbols From 1924 to 2022
Posted: August 19, 2016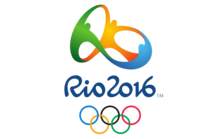 The Olympic Summer Games in Rio De Janeiro Brazil are in full swing. US athletics are racking up the medals. Here at YPPS we are always interested in the print or artistic aspect of such an event. In this case, the Olympic logo which is used on everything from uniforms to commercials.  The five colored rings are always incorporated into the Olympic logo but its had many treatments over the past 90+  years.  Take a look back and forward at these nostalgic and also modern Olympic logos.  Go USA!
read more
Best of Show
Posted: July 5, 2016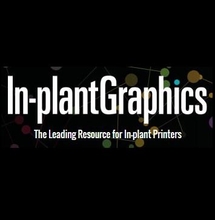 Every year, In-Plant Graphics hosts an award contest to recognize the highest quality work in in-plant printing. Industry experts, vendors and managers come together to acknowledge and celebrate the best in the business at the IPMA (In-Plant Printing & Mailing Association) conference, this year held in Denver. Yale Printing and Publishing Services was nominated for its piece "Chubb Fellowship". Out of 430 entries, 28 were chosen for Gold awards.
read more
Pages